Sonia and Eugenia — two passionate Ukrainian women — are the proud founders of SONI London.
We met in London a few years ago and felt an immediate connection. Despite having different career backgrounds, we united over our enthusiasm for fashion, unconditional love for Ukraine and desire to stand out. This was the driving force behind SONI London, a first-of-its-kind online platform that connects empowering independent fashion brands with consumers in the UK in search of something new.
We are launching SONI London to strongly empower and support independent fashion across Europe, and showcasing Ukraine is the perfect place to start.
HI, I'M SONIA. NICE TO MEET YOU!
I'm a fashion model with over seven years of experience in the industry. I have had the pleasure of working with big names such as Burberry, Harrods, Liberty, ASOS, New Look and Coach, to name a few.
My travels searching for new fashion and ideas have allowed me to study collections and explore the diversity of European fashion designers. I discovered the most amazing ethical fashion brands and sustainable clothing designers that I was shocked not to have heard of before.
After many years, I concluded that independent fashion is the future, and Eastern European fashion brands are not just abundant in quality and creativity but are also reasonably priced. That's what makes them so wonderful and terribly underrated, because this combination is something that is severely lacking in the West.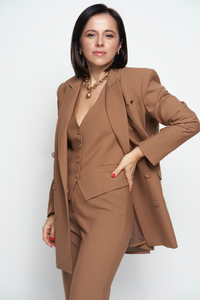 HELLO, IT'S EUGENIA HERE!
While living in Kyiv, I worked as a head of marketing for a renowned international hair care company, always surrounded by creative, talented and motivated colleagues. 
A few years ago, we relocated to London due to my partner's job posting. Since then, I have volunteered for several projects within our embassy in London that revolved around promoting Ukraine, Ukrainian clothing brands and their talented designers. 
This is how fashion became my passion and the heart of my existence.Along with Sonia, I see SONI London as the perfect opportunity to show the world the power of fashion and just how strong, creative and progressive Eastern Europeans are. Besides promoting a carefully selected pool of European fashion designers to a perceptive pool of new customers, we are committing to return a substantial percentage of profits to nominated humanitarian charities supporting Ukraine.